Press!
"As Emily Rose and Zeph of Zigtebra creep towards mainstream exposure, their plaintive and sparkling brand of off-path indie feels ... like a broadcast straight from the surreal and tender dreams of an infatuated teen in Stranger Things." -Spill Magazine, 5/01/2019

"Zigtebra's sparkling, dreamy lo-fi becomes wild in concert." - Britt Julious, Chicago Tribune (4/11/2019)
Zigtebra is synthpop for Wednesday Addams having her first crush while drinking a Redbull on the dance floor.
"The duo's Sparkle Tip EP, released in May, is a brief but cavernous effort, flooding skeletal electronic arrangements with gallons of reverb. You can almost taste the chlorine when Rose bobs to the surface for air, reciting verses that sound like New Wave nursery rhymes — half-giggled, half-moped.
You can't help but be reminded of Youth Lagoon or Beach House, two projects with which Zigtebra shares a frugal approach to songwriting. The duo's compositions seem to be held together by an ectoplasmic force, keyboards floating like slime-green clouds while drum machines clatter with the hollow tones of a washer-dryer in action.
With an album currently in the works, it's only a matter of time before Zigtebra's new music can soundtrack your own drives, haunting the open highways with their imaginative (and vaguely Gothic) spirit."
- Jude Noel, City Beat, July 4th, 2018.
~~~~~~~~~~~~~~~~~~~~~~~~~~~~~~~~~~~~~~~~~~~~~~~~~~~~~~~~~~~~~~~~~~~~~~~~~~~~~~~~~~~~~~~~~~~~~~~~~~~~~~~~~~~~~~~~~~~~~
"Zigtebra could be your best friend's indie band. They send postcards from their van to fans who leave them concert reviews on Facebook and, as audiences here will discover, they truly want people who see them to feel a connection." (Pure Honey Magazine, July 2018)
"an undersold touring band... from Chicago with sound that's like a somewhat spookier Postal Service." (On Tap Mag, July 2018)
"Creative partners Emily Rose and Zeph will get your body moving with their quirky, diary-entry love songs overcast with sparkling melancholia. Everything may seem like rainbows and butterflies with bubbly synth beats and Rose's warm, romantic vocals, but below the surface, there's longing and heartache. It's what makes Zigtebra so authentic and appealing. If you like dancing and have a heart, you won't want to miss these two." (Matt Burgerhoff, Buffa Blog, July 2018)
"Zigtebra has a way of mellowing the heart with its deep, trance-like soundscapes and danceable love anthems... Using a variety of fun, light-hearted synth textures and catchy melodies, Zigtebra creates attention-grabbing arrangements that keep the listener hooked from start to finish." (Katie Halligan, Rochester City Newspaper, July 2018)
"Spooky tones, deep synthesizer beats and crystal-clear vocals full of emotion and desire - something trance-like and pure." (Roy Brown, UWF Voyager, February 2018) If you have a chance to see this sparkling indie duo, GO, before the crowds are too deep.
2017 saw the release of charming "Sparkle Tip" EP while the pair continued writing and releasing one new song and music video a month here. They are currently on a self-booked 9 month nationwide tour, melting hearts across the USA. Live Zigtebra is a magical experience for fans of Grimes, Phantogram, Bjork, The XX, Perfume Genius, The Blow, and Sylvan Esso.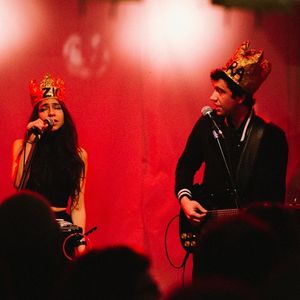 "Musically, the duo of Emily Rose and Zeph play lo-fi synth-pop shaped as much by economy as it is dance. At their best, they're something like an earthlier, more garage Grimes. Even with a simplistic setup and ethos, they perform with a sense of wonder that's contagious, likeable and utterly pure. What their basic electronic pop does show, though, is how secondary things like production and hardware are when you got the songs. "
- Bao Le-Huu, Orlando Weekly, January 2018.
"Perhaps one of the most charming acts we've ever become acquainted with, Chicago-based lo-fi indie pop duo Zigtebra – comprised of "Zebra" Emily Rose and "Tiger" Zeph – has been releasing a new single every single month during the year 2017. Their latest – the video for trance-inducing single "I Can Dance" – was cut together with archival footage setting a vibrant foreground for its audio counterpart. The track feels mellow – yet danceable at the same time – and captivating for reasons still not entirely clear to us, though perhaps Emily Rose's ethereal, calming vocals have something to do with it. Her light words almost counterbalance the harsher electronic nature of the instrumentals, creating a quirky and fun dynamic we don't always get to see in pop music."
It's time to get inspired to dance with 'I Can Dance'."
- Imperfect Fifth music blog, Oct 27, 2017
"Zigtebra is the bold marriage of linear, catchy, pure pop minimalism and new-fangled oddity/intrigue. Clean without being slick, bubbly without being trite, and full of thoughtful musings, all laid out within the bands own gaga, dragon-fruitish and ticklish aesthetic. Oh, and it's full of love — If you don't know what love is, you might get a clue."
- Miami Dolphins 
"Honestly, what's not to love about Zigtebra? Bubbling electronic melodies and straight-forward guitar work swirl around Zebra's slinky vocals. Each song builds and builds its layers, always landing on a really strong chorus and knowing just how to grab the listener."
- Midwest Action
Emulsion Labs music blog "ZIGTEBRA: Life & Videos on the Road"
"Chicago's Zigtebra is an understated delight. Their videos each bear a single, neatly framed conceit, accompanied by imagery that's alternately cryptic and adorable.  Emily Rose and Zeph met by way of shared membership in a dance troupe called Pure Magical Love. The Zigtebra project started off with puppetry and short plays and morphed into a band. The two are hopping from city to city until September, taking selfies with Bernie Sanders, running around wearing animal masks and filming a music video — to a new song — every month." - AR Times
"Zigtebra's music is a warm pillow." - Daniel Hoffman, Athens, GA
"Mazzy Star-ish, but less depressing." -Jackson Asboth, Key West, FL
"Zigtebra is dark and sparkling indie magic." -Sara Ashurst, Chicago, IL
Bands Zigtebra Has Played With: Oh Wonder, Wild Belle, EMA, The Dö, Picture This, The Blow, Jamila Woods, and Calvin Johnson.